Another exciting Pro Series tournament took place on Saturday October 20, 2012 up in Westbrook, ME. As Rich spotlighted in a previous post, the tournament was held at West-Port Lanes where proprietors Rose and Pam treated the Pro Series with utmost hospitality! This tournament was a five-string qualifier and required two shifts. As some readers may have realized, I've been adding a personal perspective to my Pro Series write-ups, and I'm going to just that.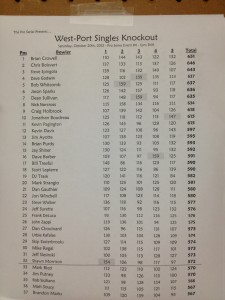 I decided to bowl during the first shift because it gives me an opportunity to catch up with other bowlers that I haven't seen over the last month since the prior tournament. The first shift was quite small, only 17 bowlers, and I happened to come in third for the first shift with a 576. I'm certainly not bragging because there were some pretty serious scores posted during this tournament especially considering how tough the house was (in my opinion). The reason I say that this place is tough is because the drops that people were getting after their first ball were extremely unpredictable. Pocket shots were not guaranteed to leave you with a nice spare leave. This, of course, could just sum up to the fact that this is a type of house that I'm simply not used to bowling at. I grew up at Malden Sq. Bowladrome. For those familiar with this house, you understand that it is moderately fast. Luckily, 576 was enough for me to make the cut! I placed twenty-fifth out of the top thirty-two bowlers.

Upon the conclusion of the second shift, I found out that I would be going against Nick Norcross. If you noticed Nick's qualifying score of 634, you've also noticed that I had an uphill battle. I've known Nick for quite a while now, and he's a great bowler so I felt a little bit of pressure. I started off fairly well, and for about three boxes or so, I had the lead. But do you remember what I said about this place being tough? This comes into place with the fills that I dropped on my spares. I remember having at least one 3-fill, which was a killer. Nick maintained his calm-natured approach and pinned very well. He picked up a couple more spares than I did to finish with a 120. My final score was a 106, and the fills on my spares made all the difference (in addition to the fact that I missed a single pin spare!).
From then on I was a spectator, and I got to watch some pretty diesel matches. I even got to keep score for Dean Sullivan and Steve Walker. I must say….Dean Sullivan is unstoppable! (Well, almost). I've never seen him bowl before and he charges hard. Not only were his qualifying scores high, but his elimination round scores were intimidating as well. He seemed to have run out of steam in the finals match while facing Jimbo Ayotte, who threw a sensational 155 string to crown himself the 2012 Candlepin Pro Series Singles Knockout Champion.
To wrap up, (and I said I was going to get personal here) what I'm most happy about with this tournament is that I qualified for my favorite format tournament. If you look back at Rich Limone's Bowler Spotlight on me, I mentioned that the singles events are my favorite because you have to qualify on your own and march through the knockout/elimination rounds on your own. Though I didn't make it much farther than the qualifying round, I came through and I can be proud about that.
With this, we look onward to the November Candlepin Pro Series Tournament which is a Doubles Knockout being held at Lucky Strike Lanes in Lynn, MA which is the home of the Barber family! Details of this tournament can be found on the Pro Series Website.
As always, remember to follow the Candlepin Pro Series Twitter account @candlepinseries. You can also follow my personal Candlepin Twitter account by following @CandlepinFrank!