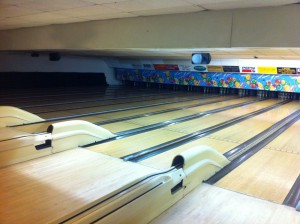 Well, here's to hoping that I start writing more as my life calms down slightly, and I am actually feeling much better than I had been over the last month.  I apologize for everything, and I truly hope you'll start coming back more regularly.
Here is the first of many sights and sounds you'll see from Bangor-Brewer lanes in Brewer, Maine, site of the 2012 Candlepin Worlds Championships.
I had the pleasure of throwing a handful of games Friday night after the first round of the playoffs were through.  The wife and I caught a pretty good dinner at Massimo's Cucina Italiana and then we went to burn those calories off.
Unfortunately, we didn't arrive in Maine until late Wednesday night amidst a fairly good wintery storm and I had to teach my math course and couldn't cancel TWO classes for bowling (though I wanted to).  I missed two days of bowling.  By the time I had thrown my first ball in Bangor, I heard a lot of complaining about the alley.  The action wasn't good.  The ball returns were slow. It was slippery.  I heard anything and everything imaginable when it came to the lane conditions.  I will fully admit I wasn't bowling in the tournament, so those things wouldn't necessarily be an issue for me bowling for fun.  The main complaint seemed to be "slop" on the lanes.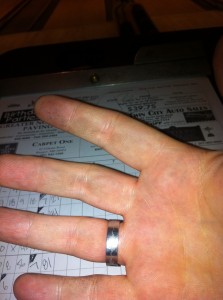 It's easy to see here – the lanes were filthy.  I can clearly see how this could be a complaint.  Since we were alone in the alley, time wasn't an issue,  so waiting for the balls was a minor inconvenience.  I opened with a solid 126, hitting some great shots, so I didn't think the action was bad.  Again, I wasn't in the tournament.  So hitting a single with wood bowling alone is a HELL of a lot easier than with an entire team rooting for you, and maybe another team jeering you to miss.  But as you can see here, I was six boxes into my second 126, and my hands looked like hell.  I was only 16 boxes in and I had trouble holding onto the ball.  I can't imagine being someone who bowls nearly all of the 33 games throughout the week.  It's an issue.  It can't be denied.  Good luck.  You need a lot of hand washing, or a super wet towel that can potentially minimize the lane conditions.
It's easy to see after opening with two 126's that dropping to a 96 with two marks is possible from the filth.  I can see how this is an issue and it should be addressed regardless of being in the tournament or your average customer.
I'm  not saying the pins should fly.  I'm not saying the ball returns should be super fast.  I bowl slowly anyway.  But things should be clean, or somewhat clean.  Bowling is difficult enough and these lane conditions just add to the game that is already maddening enough at times.
I liked the alley for the most part.  I don't like how the more I bowled the more difficult it was to hold onto the ball.  I don't generally slam the ball of the lane (save for Woburn – still confuses me) but I was a regular bouncer in the third string.
Overall it wasn't the worst experience I've had in a bowling alley.  The bowlers were right however, the lanes were messy.  The action was okay, but again, I had no pressure.  Hopefully next year, if I am at Halifax, it will be a different story and I can complain about pressure.