Big Game, Big Series – Brian Pilesky
As I, (or we) promised more content, content, content!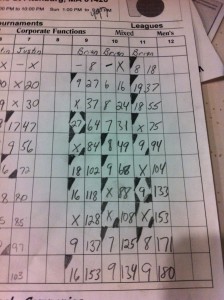 This image comes from the second King Of The Palace from New Palace lanes in Fitchburg.  I think anyone would be happy opening with a 153 – and then to follow it with a 134 – outstanding.  Brian Pilesky was off to an amazing start!
Those two scores were nice enough to witness, but Brian wasn't done on this day.  Opening his third string with four spares and sitting with a hammer is great in itself.  But then, follow that up in the second half that included a DOUBLE is just phenomenal.  Brian finished with a 180 (that I believe to his credit is now his high single) and a superb total of 467.  That's a great day by anyone's standards.
Brian qualified first for ladder with his accomplishment.  I won't give away how the ladder went, but it was fun to hear about and watch during qualifying.
Way to go Brian.  Hopefully you throw more scores like that!