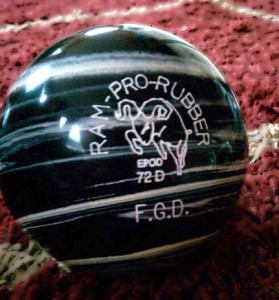 Thanks to our founding fathers, Rich and I were able to take a trip down to Paramount Industries on President's day for a discussion with Mr. Bob Parrella. Many of you are familiar with EPCO, which is the foremost manufacturer of Candlepin bowling balls today. Located in Medway, MA., EPCO manufactures a line of products that is distributed by their sister company, Paramount Industries, Inc.
Bob Parrella, a Director of the International Candlepin Bowling Association (ICBA), has spent a lifetime in the industry of Candlepin Bowling and has seen historical change occur over the years. Mr. Parrella was generous enough to take the time to talk to us about his experience. Historically, there were up to seven companies simultaneously producing Candlepin Bowling balls. Today, EPCO remains as the only manufacturer. EPCO uses a "top secret" formula and process for making their bowling balls. Perhaps this is why their product has prevailed over less expensive and less reliable methods of production. Most EPCO bowling balls are a solid, one-piece construction with each ball being perfectly weighted and balanced.
You may ask yourself – "So how can different balls be different weights?" The answer to this is hidden in the density of the formula that is used to manufacture the bowling balls. In the past (and currently with some bowling balls [EPCO Starline]), a solid core was used to weight the bowling balls for different bowlers. The issue with this is that the core would rarely be perfectly centered to allow the ball to properly roll. We all know how frustrating it is when closely missing a single pin for a spare, so we want our bowling balls to roll as smoothly and straightly as possible.
With compressed bowling balls, several layers of rubber were sandwiched together and compressed with tons of hydraulic pressure. This would cause the layers to bond due to the intense heat caused by the pressure applied. This type of bond allowed for bowling balls of limited colors, and the bond of the rubber was not strong enough to withstand the repeated crashing into pins, pinsetters – and the inevitable gutters. Thus, this manufacturing process proved to be unsuccessful for Candlepin Bowling balls.
With EPCO prevailing, new technologies were introduced to allow for many different colors to be applied to a single bowling ball while remaining one-piece. With this new process, bowlers were now able to purchase reliable, custom bowling balls in a color (or colors) of their liking.
So how can you choose a bowling ball for yourself?
EPCO's products are made from a variety of chemical formulations including rubber, urethane, resin, and other chemicals. When considering what to purchase yourself, it's important to consider the types of bowling lanes your league house(s) have. Traditionally, Candlepin bowling is played on rock hard maple, which offers a softer and more absorbent reaction to your bowling ball. Currently, many bowling centers are converting to the harder, more durable synthetic approaches that are installed as sheets. Bob was able to explain to us that bowling balls are rated with a Durometer or "D" rating. A Durometer reading indicates the surface hardness of a material that is being produced and can be useful in understanding which bowling balls are more appropriate for the surface you're bowling on.
According to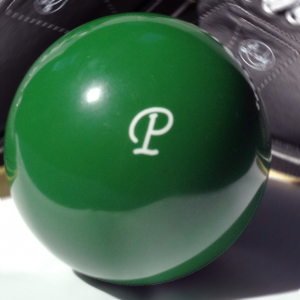 Mr. Parrella, a harder bowling ball will be more appropriate for a harder surface. For example, a Paramount Solid bowling ball, which has a D-Rating of 80-85 would react better to a lane with a synthetic surface. Typically, synthetic lanes would be more advantageous to those who roll a straighter ball because there is less "grab" on a hard synthetic surface. For an all-wood lane, a product like the EPCO Ram Pro Rubber bowling ball would offer softer reaction and would "grab" the lane for better accuracy. This particular bowling ball has a D-Rating of 72 (softer). Additionally, the Rams are made of a rubber composition, which may be better for bowlers who tend to curve or "hook" the ball toward their target. Of course, there are several different weights and many different colors offered when buying Candlepin bowling balls, so ask your friends if you can try their bowling balls before making a purchase!
Paramount Industries' retail store can be visited at 42 Milford St in Medway, MA. For any questions or additional input, please email me at fdeluca(at)everythingcandlepin.com. I'd love to hear your experiences with different bowling balls over the years.