Dear New Palace Lanes,
You're doing it right.
Right before I threw my first ball for the King Of The Palace tournament, you gave me a tap on the shoulder and said the handicap was based on MY AVERAGE.  Correct!  That's how you're supposed to do it. I applaud you.  After registering my 118 average, it turned out I had high average for the tournament, so I get zero.  I like the idea of bowling scratch.  Add to that point, the number of tournaments I do on a yearly basis might actually equal all the other competitors total tournaments combined.  I don't even want to talk about Friday night.  I don't understand making an arbitrary number like 80% to 130?  Why should everyone get pins, makes little to no sense to me.  Top average gets zero.  Done.
It just made SENSE.  Again, New Palace – you're doing it right.
So what is the King Of The Palace you say?  It's your run of the mill King of the hill (KOTH) but it comes with a twist – you'll learn about it shortly.  This tournament was the first of a series of tournaments at this house.  The next one is tentatively scheduled for February 23rd.  This KOTH, like others, is a three string qualifier, handicapped at 80% in this case to my 118.  So if you had a 112 average walking in the door, you'd get 80% of six pins, or 4.8, rounded down to the lowest whole number – 4.
Once you bowl your three strings, the top five in total pinfall form a ladder.  The 5th place bowler faces the 4th place bowler.  The winner faces the 3rd place bowler, and so on until a "King" of the hill or ladder is crowned.
I can say honestly it was interesting to be what you'd call a "pro" bowler at this event.  I was by no means the best bowler for 30 boxes, but I was the most seasoned.  By seasoned, I mean facing competition in tournament settings and otherwise.  I'm just saying, I bring a different veteran presence to the building.  I think it also showed how little I got flustered when things didn't go my way, and how I was able to make adjustments on the fly based on lane conditions.  It was what it was.  I'm not taking anything from the other bowlers there, just that I stick out.
Honestly, that's neither here nor there. I finished in sixth only because I bowled poorly in the second string.  I figured 360 (with handicap) to be the cut, and it ended up being 356.  At one point I was the cut, at 345, but one of the bowlers handicaps wasn't figured in, so that 326 quickly went to 356, and I was out.  It was a great experience, and I'm going to be there next month to get into the ladder matches.
The interesting thing with this KOTH is that once you become king, at the next one you are automatically included in the ladder.  So Billy Palumbo (who absolutely CRUSHED in the finals) will be the 5th seed and have to march up the ladder to defend.  I think that's awesome. Be different.
Again, New Palace Lanes – you're doing it right.
Added to that, New Palace has worked out a deal with FATV in the area and the ladder matches are going to be on local TV as well as YouTube.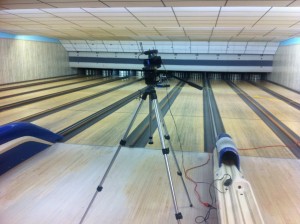 Here we see the set up New Palace had going on before the ladder began.  They had four cameras set up. One each on lane 3 and 4 over the pins, and one to the bowlers right on lane six, and a camera on lane 5 facing the bowlers.  It was a great setup and looking in the camera near the ball return, it was CRISP, and it captured them throwing perfectly.
I didn't get a chance to see the other camera in action, and I didn't want to disrupt the action, so I sat tight and watched some great two string matches.  Every now and then I grumbled about a "math error" to the owner, but I was just being a pain.  Had I bowled well it wouldn't have been an issue.  I enjoyed it, and I can't wait to go back.
Good job Billy in racing up the ladder as the 3 seed and congrats on the 180.  Oh wait is that a big game?  Yep.
Good job New Palace Lanes – You're doing it right.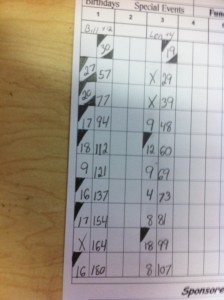 I was going to make it a separate post, but it didn't really make sense.  It happened at this tournament, and it's now a high single for Billy Palumbo.   His opponent stepped up and BANG, back door strike.  What does Billy do?  He calmly CRUSHES the 2-6 pocket and comes up the ladder from the 7 pin to the head pin for a back door strike.  His next two were "Baker strikes" – no doubters.  As soon as they left his hand, you didn't need to say "double!" hoping it would happen, it just DID.
I think the thing that shocked me the most is after the three hammers, Billy threw his BEST ball of the first four boxes and left the 7-8-10 with a vertical piece of wood in front of the 7-pin with front part closest to us angled more toward the gutter than the back of the pin.  What does Billy do?  In a Surette-esque throw, he drilled the wood straight back into the 7- and it shot across to the 8-10, and he picked it up CLEAN.  No prayer, no lean, no fist pump.  Just a spare, like all in a day's work.
It was awesome to watch, and seeing a 112 first half is just great.  He got totally screwed in the 9th for a spare, and it's a good thing it was being recorded live because I caught myself.  There is a good chance you're going to hear it on YouTube.
Good job Billy – you're doing it right.