Big Game – Jeff Walsh
Spare.  Strike!  Spare.  Strike!  Spare.  Five boxes – Eight balls thrown.  Now sit.  And wait.  That word – wait.  Oh how we hate it.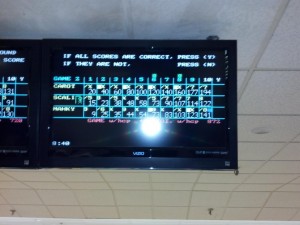 That's a great way to start out ANY string.  Jeff Walsh (affectionately known as Carrot in the Candlepin bowling world) accomplished that this past Tuesday in the speed league at Academy; opening up with five marks sitting on a spare in the 5th.
Now what comes with the sitting?  That eerie feeling of having to wait while your teammates bowl their five boxes.  Can I keep it going?  Why can't I just finish the string? You swear the machine takes longer to reset for your teammates.  Minutes seem like hours.  We all  love starting out that way just as much as the next guy, but the AGONY of waiting is awful sometimes.  Time doesn't go any faster when you're waiting to close out an awesome start.
So I asked Jeff what was going through his mind after the 5th.  "I wasn't thinking much, I've screwed up strings with those type of halves too many times to get too excited.  After the strike in the 8th is when I started getting nervous."
Well Jeff did what many of us have trouble doing – kept it going after sitting down.  And he did it like clockwork.  Strike! 100 half! Spare.  Strike! Sitting pretty at 150 before filling the strike in the 8th.  Jeff finished up strong in the last two managing back to back spares with seven fills for a 194 total!  Love those ten mark games.  Congrats Carrot on the new high single!  Jeff absolutely destroyed his old total of 167.
Hope to see that May 5th in Holyoke!
Editor's Note: Feel free to make fun of my Candlewood teammate Justin Scali for the photo.  He sent it along, and just apologized to the team for the glare, instead of sending along another with the flash off.  He must have been trying to hide all times he got hung in the second half of that string!